Bob Basu M.D. M.P.H. F.A.C.S., Houston plastic surgeon and post-bariatric surgery specialist is proud to serve as a keynote speaker at the ObesityHelp National Event November 15, 2008. Reinforcing his commitment to Houston post-bariatric surgery, Dr. Basu will be presenting the latest in body contouring techniques for the WLS patient.
Houston TX (PRWEB) November 12, 2008 — Dr. Bob Basu, MD, MPH, FACS, Houston body contouring specialist, will present as a keynote speaker this weekend as part of the ObesityHelp National Event. ObesityHelp is partnering with local area doctors, weight loss and lifestyle experts to present a comprehensive program for the greater-Houston community.
As part of this program of fitness, lifestyle and surgical weight-loss learning, Bob Basu M.D., M.P.H., F.A.C.S., a Houston board-certified plastic surgeon, will present the latest techniques and treatment for Houston bariatric surgery patients on November 15, 2008 at 9 AM at the Hilton Houston Southwest Hotel. Dr. Basu will share his extensive experience with the entire gamut of state-of-the-art options for post-bariatric body contouring. He will review clinical options for both men and women, preoperative preparation and timing, potential risk factors & safety concerns, advanced pain control modalities, expected postoperative course and recovery, and insurance coverage and precertification.
"I have always been a big supporter of ObesityHelp.com, and appreciate the educational value they provide to post-bariatric patients", says Dr. Basu. "Many bariatric patients face incredible new challenges after their weight loss. Body contouring restoration after bariatric surgery offers options for patient struggling with excess skin. These procedures provide the next transformation for patients and help both men and women not only restore form but also function – they are ready to embark on a healthier new life".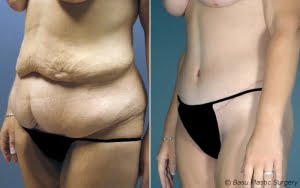 Post-bariatric patients in Houston will have an opportunity to share in learning and fellowship at the ObesityHelp National Event on November 15th, 2008 at the Hilton Houston Southwest Hotel, 6780 Southwest Freeway Houston, TX. This is a unique opportunity for those involved in this supportive online community to share learning and fellowship in the physical world.
In addition to his keynote presentation Dr. Basu will be offering a limited number of complimentary mini-consultations on a first-come first-served basis.
Dr. Bob Basu is proud to be a part of this rare event in Houston. Body contouringsurgery is a valuable tool for those post-weight loss patients to feel at home in their bodies.
For more information please visit Dr. Basu online at basuplasticsurgery.com.
About Dr. Bob Basu:
Dr. Bob Basu, with offices in Houston, The Woodlands, and Cypress, Texas is a recognized contributor on the topic of patient safety in cosmetic surgery and serves on the Patient Safety Committee of the American Society of Plastic Surgeons. Dr. Basu is a staunch advocate for patient rights and serves as Vice Chair of Advocacy for the American Society of Plastic Surgeons/YPS. He has been honored with the 2008 American Medical Association Foundation Leadership in Medicine Award. He is an HTexas magazine Top Doc in Plastic Surgery for 2007 and 2008, and also a recognized Top Doc for Women. Dr. Basu is a Diplomate of the American Board of Plastic Surgery and has served as Assistant Professor of Plastic Surgery in the Michael E. DeBakey Department of Surgery, Baylor College of Medicine. He now serves as director of Basu Aesthetics + Plastic Surgery and The Center for Advanced Breast Restoration. He subspecializes in state-of-the-art body contouring procedures after massive weight loss for both men and women. Dr. Basu continues to work closely with several bariatric centers of excellence and programs in the Texas Medical Center, Northwest Houston, Cypress-Fairbanks, and The Woodlands.