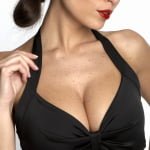 All women experience some degree of breast sag over time. Pregnancy and breastfeeding cause changes in the size and shape of a woman's breasts, while weight fluctuations and just the simple passing of time can loosen the breast skin, leading to breast sag. While these factors are inevitable, there are a few everyday habits that can help maintain the youth and beauty of your breasts. In this blog post, Houston plastic surgeon Dr. Basu discusses three of them.
Find the Right Support
Wearing a sturdy bra with the right amount of support can help your breasts stay firm and perky for as long as possible. A bra that is too big for your breasts will cause them to bounce around, stretching the breast skin. Likewise, a bra that is too small or tight can lead to discomfort and even hurt the breasts. Consider getting a professional bra fitting at a department store or a lingerie boutique to find out your bra size. Because the size and shape of your breasts will likely change from time to time, thanks to pregnancy, nursing and/or hormonal changes, it is wise to get a professional bra fitting from time to time.
Practice Proper Skin Care
A healthy skin care regimen is key to the look and feel of your breasts. Moisturizing at least once a day aids the production of collagen, a protein that helps keep your skin firm and elastic. Proper sun protection is also important. Overexposure to the sun's UV rays damages the collagen in the breast skin and causes breast sag.
Exercise Your Chest
Strengthening the pectoral muscles underneath the breasts can help your breasts appear lifted and perky. What's more, chest exercises such as pushups and dumbbell presses also strengthen your core and back, which can improve your posture. Simply standing or sitting up straighter can help the breasts look perkier.
A Long-Lasting Solution to Breast Sag
While these tips and everyday habits can lessen the effects of ptosis on your breasts, the only proven way to perk your breasts is through surgery. Breast lift surgery enhances the appearance of sagging, shapeless breasts by removing excess, stretched-out breast skin and lifting the nipples to a higher, more youthful-looking position on the chest wall. Dr. Basu commonly combines breast lift with breast reduction or breast augmentation surgery for patients who are unhappy with their breast size and want younger-looking, perkier breasts as well.
To schedule your personal consultation, please call our Houston plastic surgery practice by calling (713) 799-2278.
Now offering surgical consultations at our Galleria/Uptown Houston location.