Northwest Houston
Cypress Office
9899 Towne Lake Parkway, Suite 100
Cypress, Texas 77433
(713) 799-2278

Galleria/Uptown
Houston Office
1700 Post Oak BLVD, Suite 1-280
Houston, Texas 77056
(713) 799-2278

Arm Lift Houston
Flabby upper arms can be a concern even for women and men who have good muscle tone but who still have loose skin or a predisposition to accumulate fat in this area. In many cases, the patients considering an arm lift (brachioplasty) at our Houston practice have lost a significant amount of weight and need the surgery to reduce the bulky, hanging tissue.
Dr. Basu is a board-certified plastic surgeon and body contouring specialist who performs arm lift to help people feel more comfortable about their upper arms.
Why Consider an Arm Lift?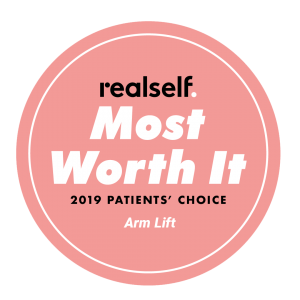 If you're so self-conscious about the appearance of your upper arms that you wear sleeves even during the summer, you may be an ideal arm lift candidate. Dramatic weight loss is one of the most common reasons for women and men to seek arm lift surgery and other body contouring procedures that reduce excess skin. That's because skin that's stretched and becomes lax won't "shrink to fit" the body's new contours after significant weight loss.
It's also important to know that research indicates that patients who undergo body contouring surgery after weight loss tend to avoid gaining back the lost weight.
Please note that to be considered as a candidate for arm lift surgery, you must have a BMI of 40 or less.
How Much Does an Arm Lift Cost in Houston?
The cost of arm lift surgery (also called brachioplasty) varies depending on the extent of the procedure. During your consultation, Dr. Basu discusses the specifics of the procedure and conducts a physical exam. Patients receive a detailed price quote at the conclusion of their consultations. The total charges will include facility fees, anesthesia-related costs and your pre-op and post-op appointments. We also offer plastic surgery financing options to help make your surgery even more affordable.
Your Arm Lift Options
Not all patients considering an arm lift may need surgical brachioplasty. Our practice was the first in the Houston area to offer BodyTite PRO™, a minimally invasive treatment that reduces unwanted fat deposits and tightens the skin using radiofrequency (RF) energy. Unlike a surgical arm lift, the BodyTite procedure requires extremely small incisions that leave scars are virtually imperceptible.
RF energy seals off blood vessels and produces tissue contraction while it's liquefying and coagulating fatty tissue. This greatly minimizes the bleeding, swelling and bruising that can accompany traditional liposuction and produces a profound skin-tightening effect.
Traditional liposuction for the upper arms is another option but doesn't produce the same skin tightening effect as either BodyTite or a surgical arm lift. Liposuction involves more downtime than the BodyTite procedure, which is performed using only a local anesthetic. In some cases, though, Dr. Basu may combine liposuction with an arm lift to further contour and shape the arms.
Your Arm Lift Surgery
Skin stretched by excessive weight gain can't shrink on its own after a patient loses weight. Body contouring surgery such as an arm lift removes the excess skin, tightens the underlying tissue, and reduces localized fat pockets. The incision technique used by Dr. Basu depends on the amount and the location of the skin being removed. He may make incisions on the inner arm or the back of the arm. In some cases, a minimal incision made in the area of the underarm may be appropriate. After tightening the tissue beneath the skin and removing fat, Dr. Basu carefully removes excess skin and then closes the incisions. He takes great care to minimize the visibility of the resulting scars. The procedure usually takes less than 2 hours.
Your Recovery & Results
As with other cosmetic surgery, each patient recovers at their own pace following an arm lift procedure. You can expect some swelling. Many patients can manage whatever discomfort they experience with over-the-counter medications. Dr. Basu discusses all aspects of the recovery with you and provides detailed instructions. Expect to take at least a few days off from work and avoid strenuous exercise for up to 2 weeks.
The results are visible almost immediately. The procedure is increasingly popular for patients who want to be confident wearing clothes that reveal their upper arms.

Bob Basu, MD, MBA, MPH, FACS
Princeton-Educated, Nationally Recognized,

Board-Certified

Plastic Surgeon
Over 16,000 Cosmetic Procedures Performed
Top Doc in "Best Plastic Surgeon" category for over a decade

Schedule Your Arm Lift Consultation with Dr. Basu
The results of your surgery are the direct result of the experience, skills, and artistry of your plastic surgeon. Dr. Bob Basu has successfully performed over 16,000 aesthetic procedures and has over 14 years of experience with breast and body procedures.
Dr. Basu has honed his techniques and artistry and is known for his superior surgical results. He believes the key to excellent results is to enhance and perfect your existing body features. He performs all surgeries with 100% honesty regarding the results you can expect to achieve.
The first step in getting the slimmer, toned upper arms you desire is to call our Houston office today at (713) 799-2278 or contact us online. Our practice has two locations for your convenience, in both Cypress and the Galleria and Uptown Houston area.