Northwest Houston
Cypress Office
9899 Towne Lake Parkway, Suite 100
Cypress, Texas 77433
(713) 799-2278

Galleria/Uptown
Houston Office
1700 Post Oak BLVD, Suite 1-280
Houston, Texas 77056
(713) 799-2278

Facelift Houston, TX
Rejuvenating Your Face
A facelift is a relatively simple procedure that can produce dramatic results and a fresh, natural look. The effects of a facelift are long-lasting. After their procedure with Houston facelift plastic surgeon Dr. Bob Basu, men and women often feel that they look years younger, more alert, and healthier. They enjoy refined natural facial features, wrinkle reduction, and restored skin tone and texture for years to come.
Dr. Bob Basu
A Facelift Specialist
Nationally recognized leader in aesthetic surgery and patient safety
RealSelf Top Doctor Award for Facelift procedure category
Thousands of face procedures performed
Meet Dr. Basu
Benefits of a Facelift
Men and women often consider facelift surgery to reverse some of the most common and noticeable effects of aging on the face. A facelift can help you take years off your appearance by:
Smoothing fine lines and wrinkles
Lifting sagging skin
Eliminating jowls
Softening neck bands
If you are beginning to notice that your mid to lower face appears lined, wrinkled, and saggy and you desire a younger, more invigorated appearance, a facelift might be right for you.
Listen to our Houston Plastic Surgery Podcast
Listen here to the Face and Neck Lift episode of Behind the Double Doors, our Houston plastic surgery podcast hosted by Dr. Bob Basu.

Who is a Candidate for a Facelift?
Healthy, non-smoking men and women from middle age onward who are concerned with wrinkles, sagging skin, and jowls on the lower face are likely good candidates for facelift surgery. Often, people who have lost a significant amount of weight may need a facelift to eliminate excess, sagging skin on the cheeks, jaws, and neck. Please note that to be considered as a candidate for facelift surgery, you must have a BMI of 40 or less.
People in their mid-40s with early signs of aging in the mid to lower face may opt for a "mini" or short-scar facelift, but shorter incisions produce more limited results. People in their 20s or 30s are generally better suited for nonsurgical facial rejuvenation options such as fillers and BOTOX® Cosmetic.
How Much Does a Facelift Cost in Houston?
Here in Houston, facelift costs can vary from $5,000 to more than $20,000, depending on the extent of correction. Another factor in the price is the credentialing and qualifications of your surgeon. The total cost of your procedure includes facility fees, anesthesia-related charges, and your pre- and post-op appointments.
At Basu Aesthetics + Plastic Surgery, we offer special promotions for a variety of cosmetic procedures. We also offer plastic surgery financing options to help make your facelift work with your budget.
You may find providers offering "great deals" on a facelift in the Houston area, but exercise caution. Choosing the cheapest doctor—often an underqualified one—can put your health and your appearance at risk. Be sure that you choose a board-certified plastic surgeon with an excellent safety record, positive online reviews, and glowing patient testimonials. He or she should also specialize in facelift procedures and have an impressive before-and-after gallery.
Customizing Your Facelift
Board-certified plastic surgeon Dr. Basu will discuss your concerns with you and explain the details of your Houston facelift surgery. He will take the time to understand the outcome that you want. There are a number of options to consider, including whether or not another facial procedure should be performed at the same time. Facelift surgery improves the lower two thirds of the face, and many people opt to combine procedures for a full-face rejuvenation.
Some procedures that may be combined with a facelift to maximize results include:
Dr. Basu will work with you to determine a surgical plan that best suits your needs to create the results that you hope for.
Your Facelift Surgery
During your facelift surgery, Dr. Basu makes well-concealed incisions in front of and behind the ear in natural folds and creases. The extent of these incisions will depend on the extent of correction.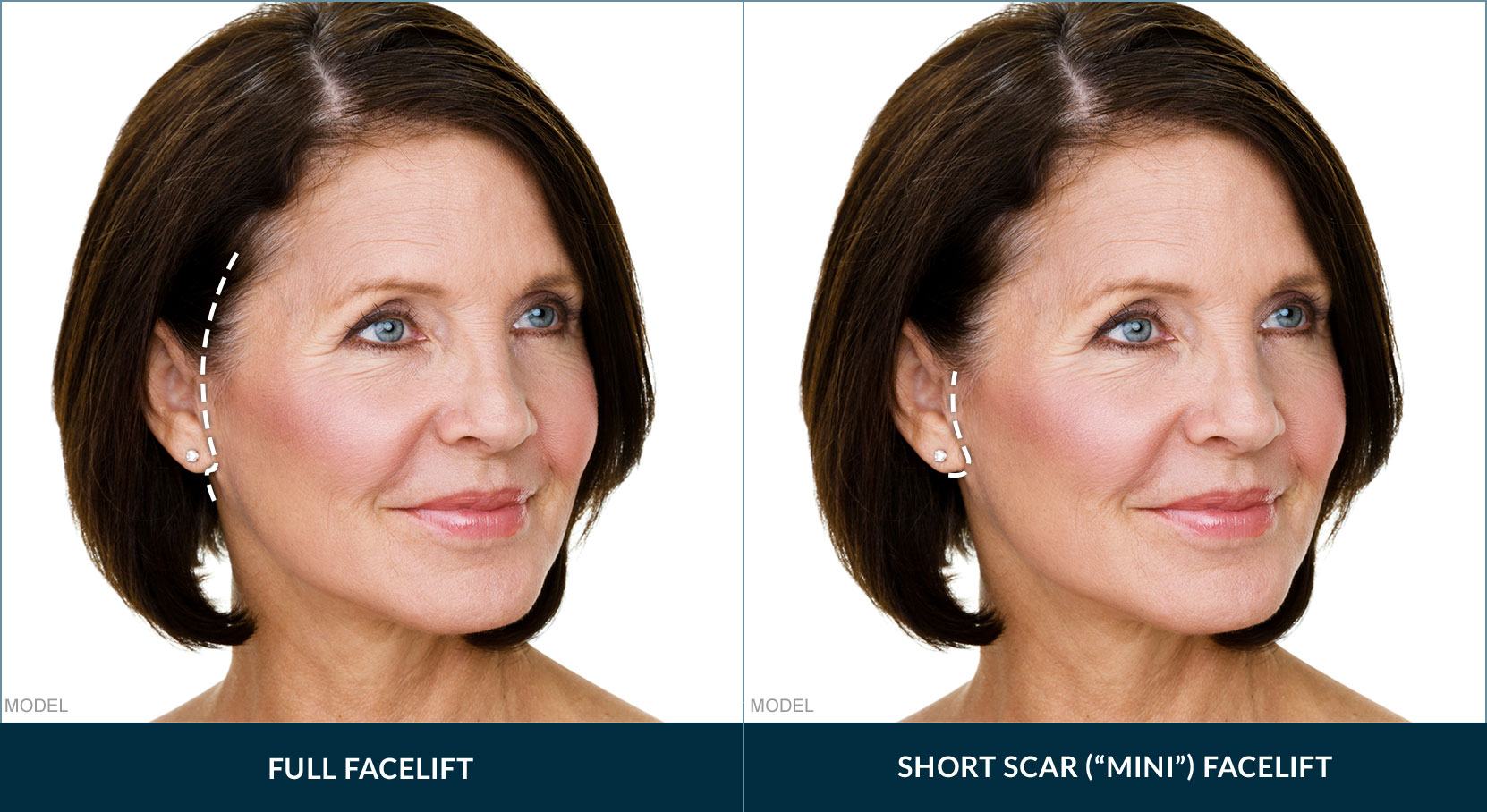 Full facelift
Most people with significant signs of aging in the lower face are best served with a traditional facelift. This involves an incision that starts in front of the ear (sideburn area) then curves along the junction of the earlobe and face, behind the ear and into the hairline.
Through these incisions, he makes adjustments to strengthen and tighten the underlying foundation structures of the face, called the SMAS. This is an important part of creating a natural looking, long-lasting facelift result. The procedure also lifts and re-drapes the overlying skin and removes any excess. This is done carefully and subtly to avoid a tight or pulled appearance.
Short Scar or "Mini" Facelift
For individuals who want to correct mild to moderate sagging of the cheeks and jaw line, incisions can be shorter. In many cases, the tradeoff for a slightly shorter scar is a more limited, shorter-lasting result. Individuals with wrinkles, jowls, and excess, sagging skin are better suited to a traditional facelift. Dr. Basu will work with you to determine whether a limited incision facelift is right for you.
Dr. Basu takes great care to create the most natural-appearing results possible from every facelift. Patients look like younger, refreshed versions of themselves, not someone who has "had work done."
About Facelift Scars
Concerns about scarring should not dictate the facelift approach you choose. Dr. Basu is very meticulous about the placement and closure of the incisions, resulting in minimized scars that will fade over time. He will work with you to ensure that your facelift achieves the results that you want, and that scars are undetectable once healed. You will be able to wear your hair up or very short without anyone knowing that you've had surgery.
Your Recovery & Results
Following your facelift procedure, Dr. Basu will provide detailed recovery instructions. You may be sent home with bandages to help to reduce swelling and bruising, but these symptoms typically diminish within the first week after surgery. Most people can expect to return to their normal activity level within the next few days, although it's recommended that they refrain from very strenuous exercise or heavy lifting for 2 to 3 weeks post-op.
After recovery, your results should appear smooth, natural, and refreshed. Many men and women often say that those in their social circles are unable to tell that they've even had facial plastic surgery.
Schedule your consultation with Dr. Basu
The results of your surgery are the direct result of the experience, skills, and artistry of your plastic surgeon. Dr. Bob Basu has successfully performed over 16,000 aesthetic procedures and has over 14 years of experience. Dr. Basu has honed his techniques and artistry and is known for his superior surgical results. He believes the key to excellent results is to enhance and perfect your existing features. He performs all surgeries with 100% honesty regarding the results you can expect to achieve.
Our practice has two locations for your convenience, in both Cypress and the Galleria and Uptown Houston area. To find out why so many people in the Houston area choose Dr. Basu for their facelift procedures, request a consultation using our online form, or call our office at (713) 799-2278 to schedule your appointment.