Cypress Office
Basu Aesthetics + Plastic Surgery: C. Bob Basu, MD
9899 Towne Lake Parkway, Suite 100
Cypress, Texas 77433
Phone: (888) 210-6704

Houston Office
Basu Aesthetics + Plastic Surgery: C. Bob Basu, MD
1200 Binz Street, Suite 950
Houston, Texas 77004
Phone: (888) 210-6704

Contact Us
To learn more, please fill out and submit the contact form below. If you prefer, call our office at (888) 210-6704 and our patient care staff will be happy to assist you.
Basu Aesthetics + Plastic Surgery – Dr. Bob Basu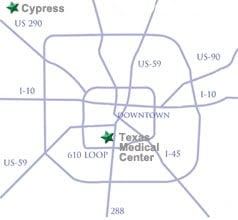 When you've decided to schedule your cosmetic surgery procedure, finding an excellent surgeon close to your home is essential. Board certified Houston plastic surgeon Dr. Bob Basu has offices in three different locations throughout the greater Houston area to give patients the option to have both.
Click on a link below to read more about the Basu Aesthetics + Plastic Surgery office nearest to you.