Northwest Houston
Cypress Office
9899 Towne Lake Parkway, Suite 100
Cypress, Texas 77433
(713) 799-2278

Galleria/Uptown
Houston Office
1700 Post Oak BLVD, Suite 1-280
Houston, Texas 77056
(713) 799-2278

Neograft - Hair Transplantation
What is NeoGraft?
NeoGraft is an FUE (follicular unit extraction) method of pain-free hair transplantation that can be completed in just one day. NeoGraft essentially takes tiny grafts of hair from the back of the head and transplants them to the front, resulting in a higher rate of success and the most natural-looking outcome.
AM I A GOOD CANDIDATE FOR NEOGRAFT HAIR TRANSPLANTATION?
The best candidates for NeoGraft are those with adequate donor hair in the back of the head. Dr. Basu will evaluate your medical history and hair anatomy and goals to determine if you are a good candidate and explore alternatives.
WHAT IS THE COST OF NEOGRAFT IN HOUSTON?
NeoGraft is priced by the amount of hair you need to transplant and how much time that takes, so the cost varies depending on how many grafts you need. We offer several financing options and our patient coordinators are happy to help guide you toward the financing company best for you.
WHY CHOOSE DR. BASU FOR YOUR HAIR TRANSPLANTATION?
There are many choices for hair transplantation in Houston. At Basu Aesthetics + Plastic Surgery, your NeoGraft team is led by Dr. Bob Basu, a board-certified aesthetic plastic surgeon who has successfully performed over 16,000+ aesthetic procedures over 14+ years. He has honed his eye and technique to achieve refreshed and balanced outcomes, even in the most challenging cases.
The key to achieving great hair transplantation results are absolutely in the practitioner's ability to produce a natural result. Your hair should look much better, but no one will know you've had the procedure done. Dr. Basu will be honest with you about what can be realistically achieved so the goals are laid out before the entire process begins. And with a full menu of surgical and non-surgical aesthetic procedures available under the same roof, you'll be able to do much more than restore hair to look naturally refreshed and younger.
Bob Basu, MD, MBA, MPH, FACS
Princeton-Educated, Nationally Recognized,

Board-Certified

Plastic Surgeon
Over 16,000 Cosmetic Procedures Performed
Top Doc in "Best Plastic Surgeon" category for over a decade

ABOUT THE NEOGRAFT PROCEDURE
During your initial consultation, Dr. Basu will discuss your hair loss concerns and map out the areas where follicles are needed to restore balding areas, thinning patches, or a receding hairline.
With a specialized suction system, the NeoGraft hair transplantation device creates tiny "punches" rather than incisions. NeoGraft extracts and then implants the follicles in thinning or balding areas. The use of pneumatic pressure is important; rather than the follicles risking damage with traditional manual extraction methods, the critical part of the follicle is protected, leading to a higher rate of survival for transplanted hair. The healthy follicles are then precisely placed and angled to appear to be natural hair growth.
NeoGraft is essentially a scar-free method. This can be particularly beneficial for men and women who prefer a short hairstyle as NeoGraft does not leave a linear scar.

HOW LONG DOES THE NEOGRAFT PROCEDURE TAKE?
Although it varies based upon the number of grafts needed, the NeoGraft hair transplantation procedure typically requires about three to eight hours to complete. It is performed as an outpatient procedure, so you will be able to return home the same day. You will need to avoid strenuous activities for about two weeks after the procedure.
DOES NEOGRAFT HURT?
Local anesthesia is administered to ensure your comfort. Because you'll be awake and it's a long procedure, we take special care to make sure you're comfortable and relaxed from beginning to end. Our surgery center is designed for your privacy, safety, and comfort. Your procedure is completed in a clean, relaxing, and quiet luxury environment that offers the same standards of safety and preparedness as Houston's top tier tertiary care hospitals.
HOW LONG DOES HAIR TRANSPLANTATION LAST?
Hair transplantation has a high rate of success with long-lasting results and a 95% "Worth It" Rating on RealSelf. Over the years, if you experience further hair loss, we can assist you with another treatment.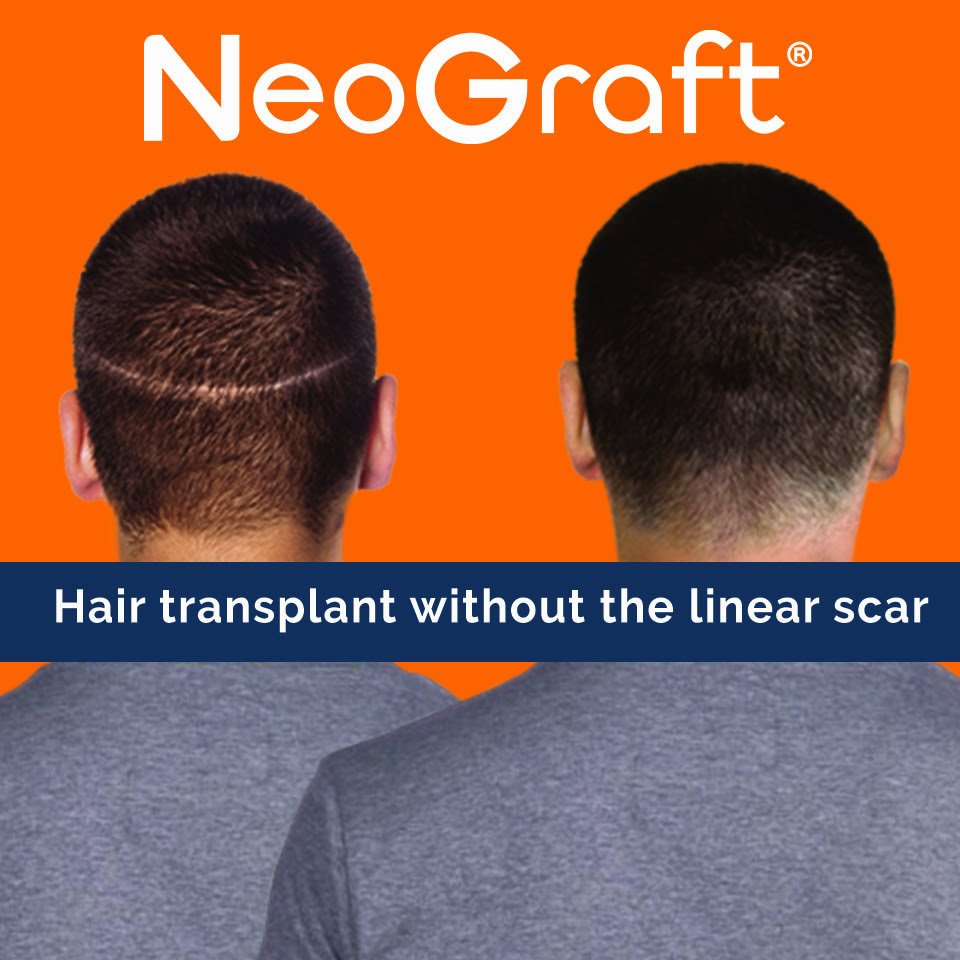 Follicular Unit Transplantation Versus NeoGraft Follicular Unit Extraction
WHY CHOOSE NEOGRAFT HAIR TRANSPLANTATION?
In the past, the most common hair transplant procedure was FUT (Follicular Unit Transplantation), which involved removing a strip of tissue from the back of the scalp where the follicles are not programmed for balding. FUT has the drawback of leaving a scar at the back of the scalp where the follicles were harvested from the strip and individually transplanted.
NeoGraft FUE (Follicular Unit Extraction) individually extracts follicles for transplant. This technique does not result in a linear scar, which also reduces recovery time. Compared to FUT and other methods of hair transplantation, NeoGraft has many additional benefits, including:
● Reduced treatment time
● Limited downtime
● No incisions or linear scars
● Higher rate of follicle survival
● Grafts less visible
● Reduced risk
NeoGraft is an advanced FUE hair transplantation system that produces superior results.
---

Before and After NeoGraft Hair Transplantation Procedure
FAQ
WHAT CAUSES HAIR LOSS?
Hair loss is most commonly a genetically inherited trait, but it can also be caused by:
● Stress
● Medical conditions
● Some medications, including cancer treatments
● Significant weight loss
● Certain hairstyles, hats, or other environmental factors
● Hormone changes, such as pregnancy, menopause, or others
The vast majority of people will experience some degree of hair loss over the course of their life. Although hair loss is often associated with age, some people experience hair loss early as during their twenties.
HOW DOES HAIR LOSS IMPACT MEN AND WOMEN DIFFERENTLY?
Although hair loss impacts both men and women, men typically suffer from male pattern baldness characterized by a bald spot near the top or back of the head, or a receding hairline. Women commonly experience an all-over thinning of the hair. Both types of hair loss can be resolved by Dr. Basu with NeoGraft technology.
WILL MY HAIR TRANSPLANTATION RESULTS LOOK NATURAL?
Absolutely! Dr. Basu is committed to producing a natural look in restoring your hairline, filling in thinning areas, or restoring hair to balding areas. He meticulously places each graft, so the new hair growth appears completely natural – never the "row upon row" look of older, out-of-date, hair transplantation techniques.
ARE THERE RISKS ASSOCIATED WITH NEOGRAFT?
The NeoGraft procedure is extremely safe and minimally-invasive, with very little risk. We recommend carefully following all aftercare instructions. This includes careful washing and avoiding any pressure to the scalp that could affect the transplanted hair follicles as they settle in the new location.
SCHEDULE YOUR CONSULTATION
NeoGraft is available at Basu Aesthetics + Plastic Surgery in Northwest Houston. To take the first step toward hair transplantation, contact us online or call our Houston office today at (713) 799-2278.