Northwest Houston
Cypress Office
9899 Towne Lake Parkway, Suite 100
Cypress, Texas 77433
(713) 799-2278

Galleria/Uptown
Houston Office
1700 Post Oak BLVD, Suite 1-280
Houston, Texas 77056
(713) 799-2278

Skin Care Products
Houston Medical-Grade Skincare
Basu Aesthetics + Plastic Surgery, serving the Houston area, is an authorized retailer of ZO® Skin Health products and SkinMedica®. Our Medspa aesthetics experts understand the complexities of the skin and stand behind the efficacy of these products. We are committed to providing our clients with medical-grade skincare options with quality ingredients and proven results backed by science.
Why Basu Aesthetics + Plastic Surgery loves ZO® Skin Health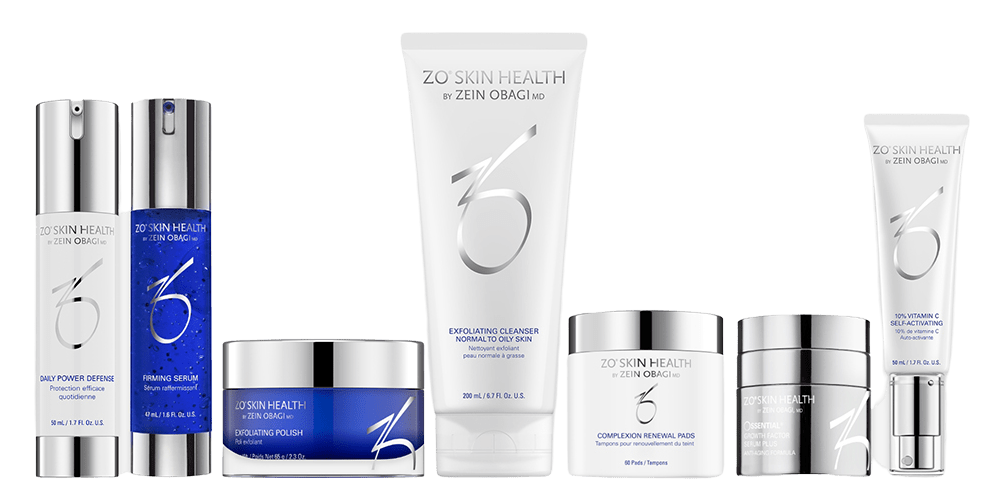 ZO® Skin Health is led by world-renowned board-certified dermatologist, Dr. Zein Obagi. He is internationally recognized as a top expert in skin health, rejuvenation, and chemical peels. Over the past 35 years, ZO® Skin Health has pioneered a science-based approach to better skincare. Regardless of age, ethnicity, skin type and condition, ZO® offers innovative products that create and maintain healthy skin. From correcting skin issues to preventing future ones, ZO® provides a comprehensive product line to treat it all.
Innovative skincare in Houston
Dr. Basu and his team at Basu Aesthetics + Plastic Surgery resonate with ZO® Skin Health's mission to provide clients with the most safe and effective products and treatments that offer transformative results. NEWBEAUTY recognizes ZO® Skin Health as a "power player" in preserving the longevity of facial treatments and procedures. Read about the importance of post-procedure skin care. Results-oriented solutions drive ZO® Skin Health to push the envelope to bring cutting edge products and treatments to our clients. Using bioengineered complexes and the latest skin therapy technology, ZO® optimizes overall skin health.
ZO® Skin Health products
We are confident that we can help you find the right products for you. ZO® Skin Health offers comprehensive kits to target the most common skin concerns. Whether you are seeking solutions for anti-aging, redness, or acne treatment and prevention, these specifically designed programs air-travel are safe and proven to transform your skin.
If you are happy with your current skincare routine but wish to add or change up a product or two, we have highlighted a few game-changers we love all on their own. Find out which ZO® products dermatologists add to their routine.
Sunscreen + Powder Broad-spectrum SPF 45
This lightly-pigmented and buildable powder sunscreen keeps your skin hydrated and absorbs excess oil. With 3 shades to choose from — light, medium, and deep — wear it on its own or over your makeup and reapply as needed. We especially love this product for its protection against blue light emissions from electronic devices and the sun. Women's Health Magazine featured this sunscreen in The 12 Best Powder Sunscreens, According to Dermatologists for 2022.
Growth Factor Serum
This highly-rated serum is formulated with a combination of plant and enzymatically derived growth factors, clinically proven to improve the overall appearance of skin, reduce the appearance of fine lines and wrinkles, and restore hydration and reinforce the skin's protective barrier. After 12 weeks of usage, 93% of patients experienced improvements in fine lines and wrinkles, firmness and elasticity, and texture and smoothness.
Complexion Renewal Pads
A ZO® Skin Health best-seller, this product helps brighten skin by removing pore-clogging debris and excess surface oil with a non-drying formula. The Complexion Renewal Pads were featured in The 12 Best Acne Scar Treatments in 2022 in Marie Claire.
Exfoliating Polish
Made up of magnesium oxide crystals, this polish gently removes dead skin cells, leaving skin instantly soft and smooth. This product is also a best seller with a 5-star rating and over 1,000 customer reviews. The Exfoliating Polish was one of the 13 Best Face Scrubs for Smooth, Glowing Skin by Good Housekeeping.
Create a Regimen with ZO® Skin Health
Whether you are looking to add a few new products or curate a whole new routine, discover your ZO® regimen by answering 6 targeted questions to help achieve your skin goals.
MORE ABOUT ZO® Skin Health
Why Basu Aesthetics + Plastic Surgery loves SkinMedica®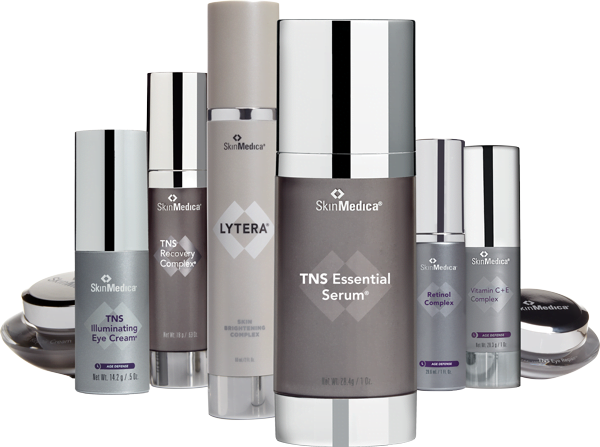 SkinMedica® is a complete line of high-quality skin care products formulated with proven skin rejuvenators such as vitamins E and C, retinol, tea tree oil and salicylic acid. While some people turn to SkinMedica® products to treat specific skin issues, anyone can benefit from practicing diligent skin care using scientifically-backed products that bring out the best in your complexion.
If you've decided to invest in SkinMedica® products and take your skincare to the next level, you'll have a range of products to choose from.
HA5 REJUVENATING HYDRATOR
This product provides continuous hydration throughout the day while offering instant smoothing results in as little as 15 minutes. Five different forms of hyaluronic acid, a molecule naturally produced by the body to retain moisture, are used to combat signs of aging.
LYTERA® SKIN BRIGHTENING SYSTEM
Achieve visibly radiant skin with this popular simple three-step system. The kit includes an exfoliating cleanser that buffs away dead skin cells, a brightening complex to reduce the appearance of dark spots, and a retinol complex for age defense.
ENVIRONMENTAL DEFENSE SUNSCREEN SPF 50+
When it comes to preventing visible signs of aging, there's no better approach than comprehensive protection from sun damage. This full-spectrum sunscreen is water-resistant and blocks against both UVA and UVB rays. The product is infused with green tea, zinc oxide and vitamin C to soothe inflammation.
In addition to the above products, Basu Aesthetics + Plastic Surgery offers a wide range of other skin rejuvenators, including SkinMedica®'s TNS Recovery Complex System, which contains a patented tissue-nutrient solution that has been proven to fight signs of aging and help skin heal from sun damage.
MORE ABOUT SKINMEDICA®
YOUR MEDICAL-GRADE SKINCARE RESULTS
When beginning any new skin care system, you can expect your skin to undergo an adjustment period. Depending on the current state of your skin and the products you choose, you may experience temporary redness, dryness or peeling. Some people may experience a minor acne breakout while their skin adjusts to the new products.
Most people see a noticeable improvement in their skin after only 1-3 months of using ZO® Skin Health or SkinMedica® products. However, the best and most long-lasting results will be seen after several months of diligent product use.
Schedule your Houston skincare consultation today
Our licensed estheticians, Amanda and Iman, are extensively knowledgeable about medical-grade skincare and dedicated to uniting their clients with the latest and most effective products. Trust them to help you discover the right home skincare routine—one that will both compliment your Medpa treatments and address your skin concerns.
Our Houston medspa is under the direction of Dr. Bob Basu, a board-certified plastic surgeon who is passionate about helping patients find true confidence. His extensive experience with a range of cosmetic surgery and non-surgical procedures make him a trusted choice for Texas men and women interested in looking and feeling their best.
Contact us online or call our office today at (713) 799-2278 to schedule a consultation at Basu Aesthetics + Plastic Surgery, conveniently located in Houston and Cypress.