Northwest Houston
Cypress Office
9899 Towne Lake Parkway, Suite 100
Cypress, Texas 77433
(713) 799-2278

Galleria/Uptown
Houston Office
1700 Post Oak BLVD, Suite 1-280
Houston, Texas 77056
(713) 799-2278

Skin Care Products
Basu Aesthetics + Plastic Surgery, serving the Houston area, is an authorized retailer of SkinMedica® products. SkinMedica® is a complete line of high-quality skin care products including proven skin rejuvenators such as vitamins E and C, retinol, tea tree oil and salicylic acid.
Dr. Bob Basu is a board-certified plastic surgeon who specializes in facial enhancement, including medical-grade skin care. His extensive training in a range of cosmetic and reconstructive procedures make him a top choice for Texas men and women interested in looking and feeling their best.
Contact us online or call our office today at (713) 799-2278 to schedule a consultation at Basu Aesthetics + Plastic Surgery, conveniently located in Houston and Cypress.
Why Consider SkinMedica® Skin Care?
While some people turn to SkinMedica® products to treat specific skin issues, anyone can benefit from practicing diligent skin care using scientifically tested products that bring out the best in your complexion. SkinMedica® is often used to address any of the following concerns:
Acne
Fine lines and wrinkles
Sun damage
Uneven skin tone
Rough skin texture
Even people without prominent skin issues can help preserve and protect their skin with medical grade skin care products. From teenagers to people of advanced age, there's no wrong time to start caring for your skin.
Bob Basu, MD, MBA, MPH, FACS
Princeton-Educated, Nationally Recognized,

Board-Certified

Plastic Surgeon
Over 16,000 Cosmetic Procedures Performed
Top Doc in "Best Plastic Surgeon" category for over a decade

How Much Does SkinMedica® Cost?
SkinMedica® products come with a range of price tags depending on the specific product and the product size. When you purchase SkinMedica® at Basu Aesthetics + Plastic Surgery, your total costs will also include your initial consultation and any follow-up appointments.
At Basu Aesthetics + Plastic Surgery, we offer frequent special promotions on a range of cosmetic treatments. We also offer plastic surgery financing options to make your procedure as affordable as possible.
Your SkinMedica® Options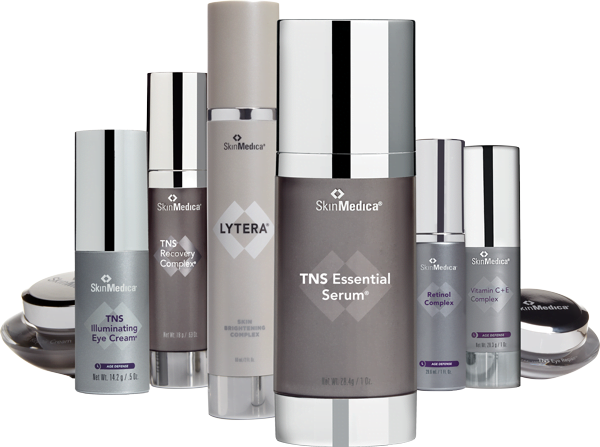 If you've decided to invest in SkinMedica® products to bring out the best in your skin, you'll have a range of products to choose from.

HA5 Rejuvenating Hydrator
This product offers continuous hydration throughout the day while offering instant smoothing results in as little as 15 minutes. Five different forms of hyaluronic acid, a molecule naturally produced by the body to retain moisture, are used to combat signs of aging.
Lytera® Skin Brightening System
Notice visibly radiant skin with our simple three-step system. The kit includes an exfoliating cleanser to buff away dead skins cells, a brightening complex to reduce the appearance of dark spots, and a retinol complex for age defense.
Environmental Defense Sunscreen SPF 50+
When it comes to preventing visible signs of aging, there's no better approach than comprehensive protection from sun damage. This full-spectrum sunscreen is water-resistant and blocks against UVA and UVB rays. The product is infused with green tea, zinc oxide and vitamin C to soothe inflammation.
In addition to the above products, Basu Aesthetics + Plastic Surgery offers a wide range of other skin rejuvenators, including SkinMedica®'s TNS Recovery Complex System, which contains a patented tissue-nutrient solution that has been proven to fight signs of aging and help skin heal from sun damage.
Your SkinMedica® Results
When beginning any new skin care system, you can expect your skin to undergo an adjustment period. Depending on the state of your skin and the products you choose, you may experience temporary redness, dryness or peeling. Some people may experience a minor acne breakout while their skin adjusts to the new products.
Most people see a noticeable improvement in their skin after only 1 month using SkinMedica® products. However, the best and most long-lasting results will be seen after several months of diligent product use.
More SkinMedica® Resources
Schedule Your Consultation
To take the first step toward achieving your ideal look with SkinMedica® skin care products, contact us, or call our Houston office today at (713) 799-2278.