For body contouring, Houston, TX, plastic surgeon, Dr. Bob Basu, counsels massive weight loss patients before cosmetic surgery for optimal results. Board certified plastic surgeon, Dr. Basu, advises on the importance of reaching goal BMI and of healthy lifestyle to decrease the risk of surgical complications and to increase the success of the cosmetic results.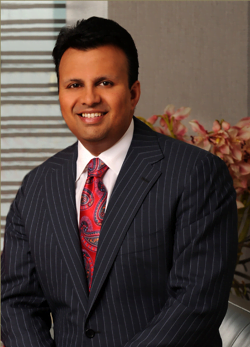 Houston, TX (Vocus/PRWEB ) May 26, 2009 – In the United States today about a third of all adults is considered obese, and with that obesity, there has been a surge of recognition of health related concerns that are exacerbated by the extra weight.
With surgeons' skills and technology advancing every year to offer patients procedures to help with extreme weight loss, the demand for these bariatric procedures is growing each year. Studies show bariatric surgery has a wealth of health related benefit:
resolves type 2 diabetes in 73% – 83% of patients
cuts the risk of developing coronary heart disease in half
is an effective treatment for obstructive sleep apnea for more than 85% of patients
Considering then opting for bariatric surgery to lose weight is a great first step toward a healthier lifestyle. After the journey of losing the weight, most patients have a great improvement in health but also a great need for cosmetic surgery. Depending on how much weight loss occurs, sagging skin and areas of stubborn fat pockets are the primary issues after massive weight loss.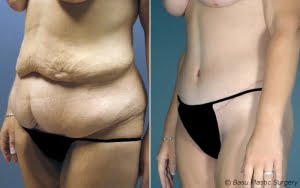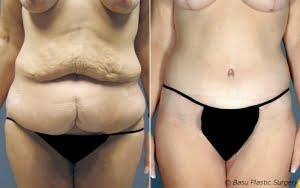 For body contouring, Houston, TX, plastic surgeon, Dr. Bob Basu, comments, "Body contouring is an excellent choice for after bariatric surgery."
Basu continues, "It's important for board certified plastic surgeons to prepare weight loss patients for their next transformation. Many patients are excited with their achievement and are eager to have their plastic surgery. To help achieve the best aesthetic results safely, we must make sure patients are stable with their medical issues, nutritional status, and with their weight loss. Patient's weight should be stable for at least 4-6 month and ideally reached their goal BMI before plastic surgery."
A study in 2008 presented at the American Society of Plastic Surgeons 2008 conference found that a patient having plastic surgery while still obese did increase surgical complications for single body contouring procedures being performed. This could be a matter of simply waiting for the last 10 or 20 pounds to be lost before proceeding with surgery.
For patients who are in consultation after extreme weight loss, Dr. Basu finds it helpful to require they maintain their goal weight for at least 6 months before plastic surgery. This helps to ensure that any lasting weight fluctuations will be under control and cosmetic results from plastic surgery will be long term.
Another finding of the ASPS study was there was little difference in complication rates in patients who had lost weight by diet and exercise versus those who had the help of bariatric surgery.
Board certified Houston plastic surgeon, Dr. Basu, again, "It's important for plastic surgeons to look at the nutritional health of all body contouring patients. Eating habits, exercise, supplementation habits, everything plays a part in the patient's readiness for surgery."
Basu says, "We cover all health history and habits of the patient consultation process. It is this in-depth consultation process where we learn about the patient and can advise what is the best and safest way to proceed with the cosmetic surgeries the patient would like."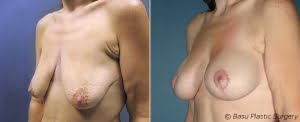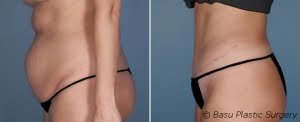 The post weight loss plastic surgery procedures may include an arm lift, thigh lift or a breast lift and/or breast augmentation. Men are also equally concerned regarding the excess that manifests after weight loss. Dr. Basu finds that the most common first line of treatment after bariatric surgery is the circumferential body lift (also known as a belt lipectomy) which includes an extended tummy tuck, lateral thigh lift, and buttock lift. This restores and reshapes the entire waist line and trunk.
Men and women considering post bariatric plastic surgery in Houston, breast lift, tummy tuck, and other body contouring procedure information and before and after images can be found on Dr. Basu's website at basuplasticsurgery.com.
About Dr. Bob Basu:
Board certified by The American Board of Plastic Surgery, Houston plastic surgeon, Dr. Bob Basu, with offices in Houston, The Woodlands, and Cypress, Texas sub-specializes in post bariatric weight loss cosmetic techniques.
He is a recognized contributor on the topic of patient safety in cosmetic surgery and serves on the Patient Safety Committee of the American Society of Plastic Surgeons. In addition, he serves on the Breast Surgery Instructional Course Committee for the American Society of Plastic Surgeons. Dr. Basu is a staunch advocate for patient rights and serves as Vice Chair of Advocacy for the American Society of Plastic Surgeons/YPS. He is one of the few plastic surgeons nationally who has been honored with the 2008 American Medical Association Foundation Leadership in Medicine Award.
Dr. Basu was voted HTexas magazine's Top Doc in Plastic Surgery for 2007-2009, and also a recognized Top Doc for Women. Dr. Basu is a Diplomate of the American Board of Plastic Surgery and has served as Assistant Professor of Plastic Surgery in the Michael E. DeBakey Department of Surgery, Baylor College of Medicine. He now serves as director of Basu Aesthetics + Plastic Surgery and The Center for Advanced Breast Restoration.