The Woodlands, TX (PRWEB) October 28, 2008 — Dr. Bob Basu and Dr. Sugene Kim, were recently featured in a story from Kimberly Stauffer in "The Houston Chronicle" addressing the advances in breast reconstruction following the successful completion of the first ever to be performed DIEP flap breast reconstruction in The Woodlands.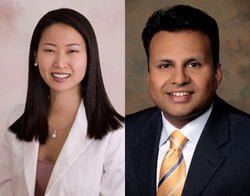 The DIEP flap is a state-of-the-art tissue-only breast reconstruction that microsurgically transplants the excess skin and fat from the lower abdomen to create a soft supple breast following mastectomy while sparing a woman's abdominal wall muscle. Breast cancer survivors who opt for the DIEP flap also benefit from a tummy tuck closure of their tissue donor site. The procedure is covered by insurance.
The predecessor to the procedure, know as the TRAM flap, would take the excess fatty tissue and skin from the abdomen but would also take part of the abdominal wall muscle. The DIEP flap is a reconstructive alternative that spares a woman's abdominal wall muscles, potentially minimizing risks for abdominal weakness or bulging. Previously only available at tertiary cancer care centers in the Texas Medical Center, this reconstructive procedure is now available close to home.
"The Houston Chronicle" article featured Ms. Mills of The Woodlands, a breast cancer survivor and the first patient to undergo the DIEP flap procedure at the Memorial Hermann The Woodlands Hospital. Ms. Mills is quoted "nothing is easy about [breast] cancer."
The outcome from her restorative surgery was more than what she could have hoped for: "It was a big deal for me to be the first patient to benefit from the DIEP flap here, and its so nice to drive ten minutes and be home from the hospital. It's amazing they can take a breast that's been removed and now restore me back with my own tissue. Its given me back a breast of my own." Ms Mills adds that she sees her DIEP flap as the positive side of cancer with a new soft breast and a flat washboard tummy after three kids.
The Woodlands plastic surgery team, Dr. Bob Basu and Dr. Sugene Kim, recognize their patients' comfort and convenience of receiving care close to home. "Breast cancer patients seeking restoration after their cancer treatment have the medical center option, but now they and their families don't necessarily have to make the drive. If you can get MD Anderson type of care close to home, then patients can make good decisions for themselves."
In "The Houston Chronicle" article, Ms. Staffer asks Dr. Basu about his dedication to breast reconstruction. Dr. Basu says, "Most people think plastic surgery is just cosmetics; that's clearly part of it. But plastic surgery also (provides) an incredible benefit to reconstruction after (breast cancer). Our focus is breast reconstruction, working in conjunction with a patient's (entire cancer) care team."
The Center for Advanced Breast Restoration works with many cancer care providers and community groups in North Houston, The Woodlands, Cypress, Conroe and Kingwood areas to educate women about their reconstructive options after mastectomy and even after breast conservation therapy (lumpectomy).
Dr. Kim highlights, "Many women don't even realize that these reconstructive procedures are covered by their insurance and are now available close to home. Although we strive for the best cosmetic results, breast reconstruction is not a cosmetic self-pay procedure; it's covered by their insurance."
Dr. Basu and his surgical partner, Dr. Sugene Kim, offer both autologous (tissue-only) and implant based reconstruction based on the individual patient's medical situation. They also offer options for lumpectomy reconstruction, nipple and areola reconstruction and also provide options to revise previously reconstructed breasts. A custom restoration is designed for each patient dependent upon the patient's goals, the cancer care program, and anatomy.
For more information on breast reconstruction, The Woodlands and North Houston communities, and to learn more about the different reconstructive options, please visit The Center for Advanced Breast Restoration at www.breastrestoration.net
About Dr. Bob Basu:
Board-certified, The Woodlands and metro Houston plastic surgeon, Dr. Bob Basu, MD, MPH, FACS , brings extensive experience in breast reconstruction from Texas Medical Center to the local communities of The Woodlands, Cypress, Northwest Houston and the greater Houston area.
Initially, Dr. Basu was recruited by Baylor College of Medicine to develop a breast reconstruction program at the Michael E. DeBakey Department of Surgery. Often hearing patient concerns of having to travel long distances for care at the Texas Medical Center, he began treating his patients closer to their homes in The Woodlands and Northwest Houston.
With a strong desire to increase the availability of state-of-the-art breast reconstruction techniques following mastectomy or lumpectomy and with a vision to provide comprehensive options for reconstruction after cancer, Dr. Basu founded The Center for Advanced Breast Restoration to give his patients more personalized care in a beautiful environment of his own creation.
About Dr. Sugene Kim:
The Woodlands plastic surgeon, Dr. Kim brings her extensive experience in breast reconstruction from the M.D. Anderson Cancer center where she completed the prestigious fellowship in reconstructive microsurgery focused on advanced breast reconstruction techniques. She has also served as a clinical specialist in the department of plastic surgery at MD. Anderson.
Dr. Kim completed her general surgery training at Georgetown University School of Medicine and completed her plastic surgery training at Albert Einstein Montefiore Medical Center in New York City. Dr. Kim's main office is located on the campus of the Memorial Hermann – The Woodlands Hospital. In addition, Dr. Kim treats and evaluates patients in Kingwood/Humble and Northwest Houston.