H Texas Magazine – April 2013
C. Bob Basu, MD, MPH, FACS is proud to once again be chosen as an H Texas Magazine Top Doc in Plastic Surgery. 2013 marks the 7th consecutive year that Dr. Basu has earned the honor.
A national leader in his field, he was recently named to the Board of Directors for the American Society of Plastic Surgeons, where he also serves as Chair of the Patient Safety Committee. Dr. Basu has developed a strong reputation as an advocate for patient safety and education as well as for his surgical skill in cosmetic and reconstructive procedures.
He is featured in H Texas Magazine with his surgical partner, plastic surgeon Sugene Kim, MD.
H Texas Magazine – March 2010
Dr. Bob Basu returns as a Top Doc in Plastic Surgery for the fourth consecutive year. He serves as director of Basu Aesthetics + Plastic Surgery and The Center for Advanced Breast Restoration. He specializes in:
Cosmetic plastic surgery (breast, body, face)
Body contouring restoration for moms or after massive weight loss
Breast reconstruction including state-of-the-art techniques using one's own tissue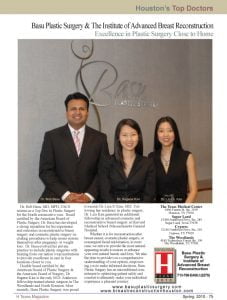 From the initial consultation, Dr. Basu works diligently to provide you with the highest level of personalized care. He meticulously listens to your goals, always encourages questions, and addresses every concern. He takes the time to provide you with a comprehensive understanding of your options, empowering you to make informed decisions.
In every case, Dr. Basu strives to provide the most natural appearing results to restore or enhance your own natural beauty and form. Basu Aesthetics + Plastic Surgery has an unconditional commitment to optimizing patient safety and comfort to ultimately make your individual experience a pleasant journey.
Dr. Basu is a recognized contributor on the topic of patient safety in cosmetic surgery and is Board Certified by the American Board of Plastic Surgery. Most recently, he has been honored with the 2008 American Medical Association Foundation Leadership in Medicine Award.