Northwest Houston
Cypress Office
9899 Towne Lake Parkway, Suite 100
Cypress, Texas 77433
(713) 799-2278

Galleria/Uptown
Houston Office
1700 Post Oak BLVD, Suite 1-280
Houston, Texas 77056
(713) 799-2278

Cosmetic Breast Surgery Textbook
The comprehensive guide to aesthetic breast surgery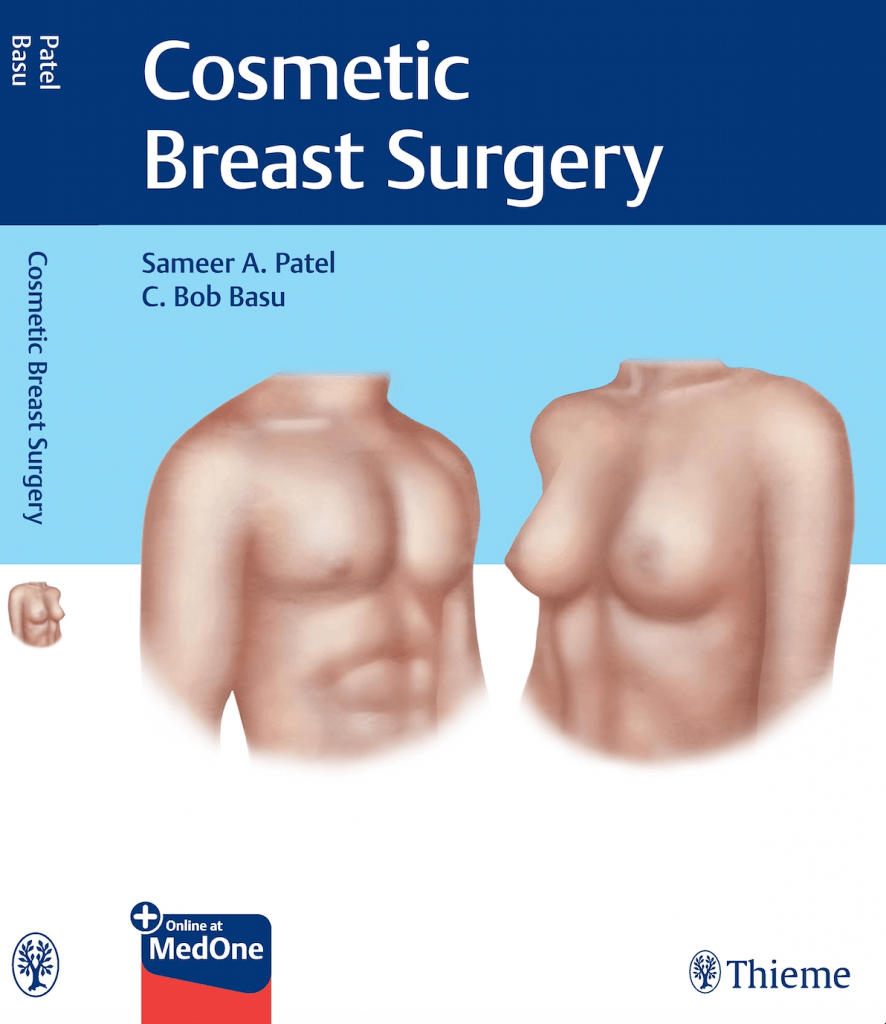 Board-certified plastic surgeon Dr. C. Bob Basu, along with co-editor Dr. Sameer A. Patel, has published an up-to-date, comprehensive textbook titled Cosmetic Breast Surgery. The textbook presents the latest techniques for breast augmentation, breast lift, breast reduction, and breast revision surgery.
From dedicated chapters focused on the management and correction of undesirable results to expert perspectives on male aesthetics, Cosmetic Breast Surgery provides a one-stop resource on aesthetic breast procedures. Every chapter includes technical pearls and methodologies to help surgeons master approaches and achieve optimal patient outcomes.
Comprehensive and diverse, this is a must-have reference for plastic surgery residents, fellows, and early-career aesthetic plastic surgeons. It will also benefit senior surgeons who wish to expand their surgical repertoire.
With chapters on everything from male aesthetics to Dr. Basu's "internal bra" breast lift technique, this textbook is a one-stop resource on cosmetic breast procedures for surgeons at any stage of their career.
Organized into six sections, the book begins with a discussion of breast anatomy, followed by a breast augmentation section that serves as a primer on breast implants, from selection to fat grafting. Section three covers management of the ptotic breast, including topics such as mastopexy, a novel internal bra technique, and reduction mammoplasty. Section four details important revision issues, such as managing acute complications and anaplastic large cell lymphoma linked to breast implants. Section five is devoted to male breast procedures, while section six includes chapters on congenital breast deformities, transgender breast surgery, and practice management issues.
Topic Highlights
Preventing and treating capsular contracture
How to manage risk and complications in aesthetic breast surgery
Marketing a cosmetic breast surgery practice in the digital space
Nearly 300 illustrations to enhance understanding of techniques
The Seminal Textbook is Available Now
This comprehensive guide comes in either 857-page hardback or ebook, available now from textbook retailers such as Amazon or through the publisher, Thieme Medical Publishers.