Northwest Houston
Cypress Office
9899 Towne Lake Parkway, Suite 100
Cypress, Texas 77433
(713) 799-2278

Galleria/Uptown
Houston Office
1700 Post Oak BLVD, Suite 1-280
Houston, Texas 77056
(713) 799-2278

BioTE® Hormone Replacement Therapy
At our practice serving Cypress and the metro Houston, Texas, area we treat women and men who are concerned about the effects hormone imbalance is having on the quality of their lives. Natural bio-identical hormone replacement therapy using pellets is a steady, consistent method of delivering hormones to the body that other treatments can't match.
Board-certified plastic surgeon Dr. Bob Basu has offices in Cypress and Houston, TX where patients experiencing the symptoms of hormone imbalance can find relief through BioTE hormone replacement therapy with pellets.
Why Consider BioTE?
Our hormone levels naturally decrease as we age, causing many symptoms that can affect the quality of our lives. A woman's hormone levels may start dropping as early as age 30, or after hysterectomy surgery. Men may notice hormone imbalance symptoms starting at age 40, with significant drops each year. If you experience any of the following symptoms, you may be a good candidate for BioTE hormone replacement therapy: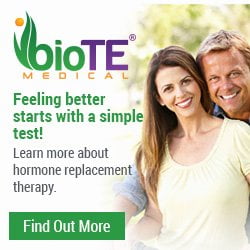 Extreme fatigue
Memory loss, mental fog, confusion
Irritability, mood swings
Difficulty sleeping
Low sex drive, decreased vaginal lubrication, painful intercourse
Night sweats, hot flashes
Joint aches and pain
Weight gain, bloating
Depression
BioTE is derived from all-natural plant resources and is different than other hormone replacement methods that include pills, creams, and injections. BioTE delivers a continuous dose of hormones 24 hours a day, 7 days a week to avoid the rollercoaster effect caused by inconsistent delivery.
Your BioTE Procedure
People interested in BioTE hormone replacement pellet therapy need to schedule a personal consultation with Dr. Basu to determine if they are a good candidate. Dr. Basu is a *certified BioTE practitioner and has the expertise needed to identify patients who can benefit from the treatment. A comprehensive bloodwork analysis is also required to determine proper hormone levels and to calculate the proper dosage for each individual.
The pellet insertion process is a quick and painless procedure that is done in our office under local anesthesia. The size of the pellet is comparable to a grain of rice and is placed just under the skin, usually in the upper buttock area.
How Much Does BioTE Cost in Houston?
The cost for BioTe Hormone Replacement Pellet Therapy can vary based on your individual needs. The cost will include the initial lab work and 6 weeks of post-lab follow up. Each pellet lasts for about 3 to 5.5 months for women and 5 to 6 months for men. Maintaining hormone levels requires re-insertion of the pellets, depending on each person's metabolism and lifestyle.
The cost of hormone replacement therapy is not covered by insurance.
Your Results
Following your treatment with BioTE hormone replacement pellets, you can expect:
Increased energy
Increased memory and clarity
Menopausal symptom relief
Greater bone density
Renewed sleep patterns
Increased sex drive
Decrease in intensity of depression
Greater ability to lose weight
Reduced anxiety, irritability, and mood swings
Reduced risk of osteoporosis, Alzheimer's disease, heart disease, and diabetes
To feel younger and happier again!
Schedule Your Consultation
To take the first step towards greater energy levels with BioTE hormone replacement therapy, contact us, call our Houston office today at (713) 799-2278.