Many people suffer from excess skin in their midsection due to weight loss or pregnancy. The only way to reclaim your figure and tighten your abdomen is through a surgical procedure called an Abdominoplasty, also known as a Tummy Tuck. There are 3 different types of Tummy Tuck options that may better suit your needs based on your anatomy and cosmetic goals.
Traditional Tummy Tuck
A traditional tummy tuck is the most popular type of Abdominoplasty performed. The result from weight gain and pregnancy can leave a bulge in the abdomen that you are unable to flatten through traditional diet and exercise. This is partly due to a separation in the your muscles. During your Tummy Tuck procedure, excess skin is removed and the muscles are tightened through a strategically placed incision low down across the bikini/undergarment line. Liposuction can be performed at the same time to sculpt the waist and flanks even further to facilitate that much desired hour-glass look when desired.
Mini – Tummy Tuck
A mini tummy tuck is for patients who are mainly only bothered by excess skin below their belly button. The same strategically placed incision is placed to remove and tighten the skin, however, the muscles do not need to be tightened in this procedure. The recovery period is not as extensive compared to the traditional approach since there are less steps involved.
Extended Tummy Tuck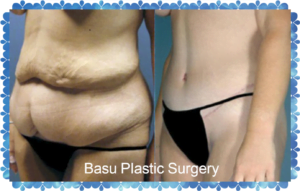 An extended Tummy Tuck follows the same approach as the traditional, however more abdominal tissue is usually addressed in this approach and the skin laxity reaches further towards the back. To address the excess tissue that needs to be removed, the surgical scar across the bikini line will need to be extended further towards the back to provide a greater skin tightening and sculpted result. Extending the scar is necessary with this approach to prevent the appearance of a "dog ear" also known as a puckering in the skin where the incision line ends.
If excess skin is a concern across the entire midsection leading towards the back and buttocks a circumferential body lift may be better option to address multiple concerns in one procedure.