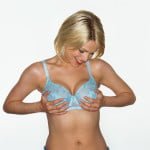 Are you excited about having fuller breasts, but not sure what to expect from bra shopping with your new curves? The pros? Passing up all of those padded bras that you used to need to give you that va-va-voom factor. Cons? Not having a frame of reference on what size to shop for and what looks good on your new body. Learn how to shop for your new breasts by following these guidelines, provided by board-certified plastic surgeon Dr. Bob Basu.
Make Sure You're Ready to Shop
Before embarking on a Saturday afternoon bra-shopping extravaganza with your best friend, make sure that you are first cleared by your doctor to wear a regular bra. The recovery period after your Houston breast augmentation surgery usually lasts four to six weeks, during which time the breasts are swollen and the incisions are healing. During this time, you will need to wear the doctor-recommended compression or sports bra that provides your breasts adequate support and protects your incisions while they are healing. Wearing a regular bra too soon after surgery could hinder the healing process and cause infection at the incision points.
Get Properly Fitted
You may have been measured for your bra size before surgery, but now you will need to go through the process again. Having a professional bra fitting, whether at a local department store or a specialty boutique, will help you to determine what your exact bra size is so that you can find a bra that gives you adequate support. But even with a proper fitting, different style bras will fit the shape of your breasts differently. And since size may vary slightly depending on the manufacturer, you may need to try on a size larger or smaller.
Try out Different Styles
Whether your style is light pastels and lacy inlets or a simple black racer back, it is good to try on different types of bras to see which ones best support your breasts. Trying on styles that are different from what you're used to also opens up your mind to the possibilities of bras that may look better on you now that you've had breast augmentation. Your best bet is to buy one or two bras that you really like and then wait a few months before buying more, since the size and shape of your breasts will still change slightly as they continue to heal.
Heed the Signs of an Ill-Fitting Bra
When shopping, keep your eyes open for these common signs that a bra is not fitting properly:
Bra straps digging into your shoulders
Bra band riding up your back
More than two inches between bra band and back
Underwire sits on top of your breast instead of on your rib cage
Bra cups are wrinkling or folding
Breast tissue bulges out of cup
More About Breast Augmentation Surgery
Do you have more questions about breast augmentation surgery? Schedule a private consultation with Dr. Basu at his Houston plastic surgery practice by calling (713) 799-2278.