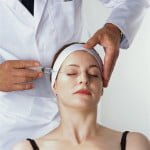 It's long been known that BOTOX gives you a younger appearance by smoothing the fine lines and deeper wrinkles on your face. But some studies suggest that getting BOTOX may also relieve the melancholy that is a telltale sign of depression. Read on to learn more.
How May BOTOX Help Relieve Depression?
Try this exercise: Smile broadly. Do you feel better? Dr. Eric Finzi, a board-certified dermasurgeon, seems to think you will. "Whatever you do with the muscles in the face actually send a signal back to the brain and tell your brain what the state of your emotions are," he noted in an interview with Fox News. By this token, a person's facial expression is the result of, but can also contribute to, a person's mood. A person with depression will show expressions of sadness, anger and other negative emotions on their face. These expressions map predictable muscle contractions, creating a furrowed brow and frown lines between the eyebrows.
Studies on BOTOX as a Depression Aid
So what happens when a depressed person has BOTOX and then tries to form a frown or otherwise dejected expression, but finds it impossible due to the facial muscles that cause those frown lines to be relaxed? In a 2014 study, Dr. Finzi found that 17 of the 33 participants that he treated experienced a 50 percent or higher reduction in their depression symptoms after just one BOTOX injection, with 27 percent of the group reporting that their depression went into remission as a result.
A German study on the effects of BOTOX on depression injected a random group of patients with either BOTOX or a saline placebo. Several weeks after a single BOTOX injection, the group that had the BOTOX injection experienced a 47 percent reduction in their rate of depression, based on the Hamilton Depression Rating Scale, a guide used by health care professionals to evaluate depression.
But while studies like the ones mentioned show promise as to the effectiveness of BOTOX when treating depression, there is currently not enough evidence to suggest BOTOX as a viable alternative to other, more proven, depression treatments.
How Else Can BOTOX Make You Happy?
Whether you deal with depression or not, there are many other benefits to having BOTOX. These include:
Looking younger and more rested
Increased self-esteem
Presenting a more attractive face to the world
Want to Give BOTOX a Try?
BOTOX can help you to achieve a younger look immediately, with results that usually last for months. Would you like to learn more about BOTOX? Schedule an appointment with Dr. Basu today by calling (713) 799-2278.