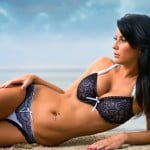 It's been a hot summer here in Texas, and our team is dreaming of cooler temperatures. A dip in a refreshing pool, a Popsicle and the blast of the air conditioner all sound very appealing.
And speaking of chilly things, what if we told you there was a way to "freeze your fat" away?
Too good to be true? It's not.
CoolSculpting is an FDA-approved system that uses controlled cooling to reduce areas of surplus fat without surgery or downtime.
Does Non-surgical Fat-Freezing Technology Really Work?
Although it may sound like a concept from a science fiction movie, CoolSculpting is a safe and effective solution to unwanted fat. More than 1 million CoolSculpting treatments have been performed around the world to-date.
CoolSculpting technology delivers controlled cooling to target the fat cells in the treatment area. The fat cells crystallize and die, and the body processes and eliminates them through its natural waste removal functions.
Who Is a Good Candidate for CoolSculpting?
CoolSculpting is a good option for men and women with stubborn fat deposits on the waist, thighs, buttocks, hips, back or arms. If you are in good general health, do not smoke and are at or within close range of your target weight, you may be a good candidate for CoolSculpting. CoolSculpting is not a weight loss procedure.
More about CoolSculpting
Developed by Harvard-trained scientists, CoolSculpting was cleared by the FDA in 2012 for safe use. One of the benefits of Cryolipolysis® fat-freezing technology is that it is able to kill fat cells without damaging the surrounding tissue or skin.
CoolSculpting does not require needles, injections, anesthesia or significant downtime. A treatment session typically takes about an hour to complete. For the best results, we recommend multiple treatment sessions.
Afterward, some patients have minor side effects in the treated area, such as swelling, tingling or numbness. However, patients can immediately return to their everyday routine.
Results typically appear two months after treatment, when the body has had a chance to process and eliminate the frozen fat cells. We recommend our patients maintain their results by following a healthy diet and exercising regularly.
Scheduling a CoolSculpting Consultation
To learn more about CoolSculpting treatment and what it entails, please contact our office by calling or via email today.