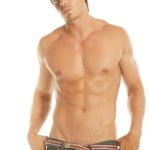 Earlier this year, the American Society for Aesthetic Plastic Surgery (ASAPS) released some surprising data. More than 10 million cosmetic surgical and nonsurgical procedures were performed in 2012, and almost 1 million of those procedures were performed on men. The ASAPS data also showed a 106 percent increase in cosmetic procedures for men between 1997 and 2012.
What accounts for the drastic rise in male plastic surgery? Experts have a few ideas:
Men want to improve their appearance. Women aren't the only ones who want to look attractive and fit. And just as women have diverse needs and goals for their  plastic surgery procedures, so too do men. Some male plastic surgery patients want to look like models (with a sharp jawline, enhanced cheekbones and defined abs) and others want to resemble body builders (with a large — but firm — chest and muscular glutes).
Just like women, men are susceptible to the messages that movies and the media project. As men like George Clooney and Bruce Willis seem to be hitting their prime in their 50s, it's difficult to resist the pressure to stay attractive and fit. The fixation with what is at best self-awareness and at worst obsessive vanity, can be (at least partially) attributed to the explosion of social media, where eye-catching "profile pics" and "selfies" are de rigueur.
Men want to remain competitive in the (cutthroat) job market. Some men believe that having plastic surgery helps to further their professional endeavors. CEOs and board members who want to remain relevant in the job market (and competitive with younger executives) may opt for a surgical or non-surgical procedure to refresh their appearance. According to a source quoted in a Business Insider article, looking in-shape, youthful and masculine may boost a man's chances of climbing up the corporate ladder.
What Procedures Are Most Popular Among Men?
ASAPS reported that the top five cosmetic surgical procedures among men are liposuction, rhinoplasty, eyelid surgery, breast reduction to treat enlarged breasts and ear shaping.
Minimally invasive procedures are also rising in popularity among men. The top five most performed non-surgical procedures include Botox treatment, laser hair removal, microdermabrasion, chemical peels and soft tissue fillers.
Schedule a Consultation with Dr. Basu
If you're interested in a procedure like liposuction, male breast reduction or Botox treatment, Houston plastic surgeon Bob Basu would be happy to speak with you about your options. Please call our office at to schedule an appointment.