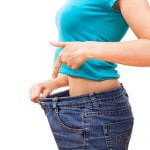 It may sound surprising, but many people who lose a massive amount of weight are still unhappy with their bodies. This is because in many cases weight loss surgery patients are left with loose, excess skin that looks unappealing and feels unpleasant. Surgeons believe this is why more and more weight loss surgery patients are turning to body contouring procedures that aim to eliminate sagging skin and create smoother, firmer body contours.
The Link Between Weight Loss Surgery and Body Contouring
According to the American Society of Plastic Surgeons (ASPS), the number of people opting to lose a massive amount of weight through bariatric surgery is increasing. In 2013, there was an average of 500 weight loss surgery procedures a day, the third highest number on record. Body contouring procedures such as liposuction, arm lifts, breasts lifts and body lifts also increased to their highest numbers in four years. The number of thigh lifts and upper arm lifts performed rose 9 percent, while tummy tuck surgeries increased 4 percent and breast lifts increased 10 percent.
Surgeons believe the increase in body contouring following bariatric surgery is a result of the problems that typically follow massive weight loss. Many weight loss surgery patients have trouble performing daily tasks due to hanging, sagging skin. In some cases, the excess skin becomes painful to move with or difficult to clean and, as a result, becomes infected.
Post-Bariatric Body Lift with Dr. Basu
Dr. Bob Basu offers Houston plastic surgery patients several body contouring procedures, including a body lift specifically designed to eliminate loose, stretched skin left behind from dieting, exercise or massive weight loss surgery. A post-bariatric body lift removes excess skin while improving the shape and tone of the underlying tissue.
A post-bariatric body lift can be performed on several areas of the body that may be left with sagging skin following massive weight loss. The procedure can slim down inner and outer thighs, and restore balance to unevenly shaped buttocks. The upper arms can be firmed and toned, while excess skin in the abdominal area can be removed to reveal a flatter, more toned tummy. Dr. Basu typically performs liposuction during post-bariatric surgery in order to remove small, stubborn fat deposits left after weight loss.
To learn more about your body contouring options following massive weight loss, reach out to Houston plastic surgeon specialist Dr. Basu. He will gladly discuss a surgical plan personalized to fit your needs and post-weight loss goals. Schedule a one-on-one consultation today by calling (713) 799-2278.