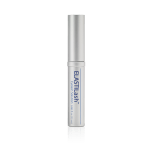 Obagi recently announced the arrival of ELASTILash, an eyelash solution they say can help you achieve the appearance of thicker, fuller lashes without a prescription.
Known for their high quality medical grade skincare products, Obagi is obviously taking aim at the growing market for Latisse, the popular prescription eyelash solution by Allergan Inc.
Instead of the growth-inducing bimatoprost contained in Latisse, ELASTILash works with a peptide-based solution. The new product is hypoallergenic, physician tested and according to an official press release, 70 percent of patients in clinical trials reported the appearance of thicker, fuller lashes in 4-6 weeks.
ELASTILash is applied with "one generous brush stroke along the entire upper eyelash line every night." The product is supposed to be available in physician's offices soon at a price around $60 each.
Read more about Obagi skin care products in Houston