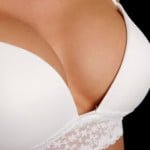 One of the most important decisions a breast augmentation patient must make is the type of implants to have placed. Houston plastic surgeon Bob Basu has compiled a guide to the differences between saline and silicone breast implants and outlined the pros and cons of each type.
While you may come into the breast augmentation experience with an inclination toward one type of implant, Dr. Basu will share his professional recommendation with you. After performing a physical examination and inquiring about your personal surgical goals, he will suggest the type of implants to best suit you.
About Saline Implants
Saline implants are filled with a sterile saltwater solution, similar to fluid found naturally in the human body. The saltwater solution is encased in an outer silicone shell. The shells are placed and then filled. First, Dr. Basu places the implant shell inside the breast pocket, and then he connects a small tube to a valve in the front of the implant, slowly filling it to the desired capacity.
Saline implants are FDA-approved for women ages 18 or older.
Pros
Because saline implants are not filled until after the shell has been placed, they can be inserted through a smaller incision than what is required for a silicone implant.
Saline implants can also be filled to a range of volumes, giving Dr. Basu greater flexibility than he has with pre-filled silicone implants.
Should the shell leak or rupture, the saline implant will quickly collapse and it will be very noticeable. Because of the nature of their filling, it is very easy to detect a leak; the implant goes flat very quickly and is noticeable to the naked eye.
Cons
Some women believe that saline implants don't feel as similar to natural breast tissue as silicone implants.
Saline implants are more prone to rippling.
About Silicone Implants
Silicone implants are pre-filled with a soft, elastic gel material encased in an outer silicone shell. They come in a variety of shapes, including round and teardrop.
Silicone implants are FDA-approved for breast augmentation patients ages 22 and older, and breast reconstruction patients of any age.
Pros
Many plastic surgeons and women believe the gel feels more similar to natural breast tissue than saline material.
Silicone implants are less likely to ripple.
Cons
Because silicone implants are pre-filled, Dr. Basu must make a longer incision to insert them.
By nature of the filling, silicone implants will not collapse if they develop a leak or rupture. Many doctors recommend special annual ultrasounds/MRIs and regular check-ups to check for problems.
Schedule a Breast Implants Consultation with Dr. Basu
If you'd like more information about saline or silicone breast implants, please contact Dr. Basu at his Houston plastic surgery practice. Call to schedule an appointment.