We are excited to offer the highly-requested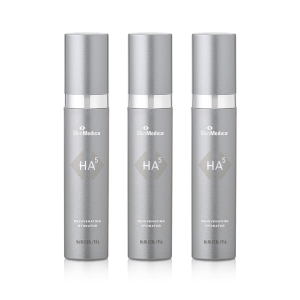 HA5 Rejuvenating Hydrator to our SkinMedica line.  This product is a must-have for any beauty connoisseur to add to their skin care routine.
As a skin care addict myself, I can honestly say I haven't seen anything like HA5 Rejuvenating Hydrator on the market. This product offers instant smoothing results to the appearance of fine lines and wrinkles and provides continuous hydration throughout the day. As its name suggests, HA5 is a Hyaluronic Acid serum that utilizes five different forms of HA that work together to deliver its anti-aging benefits.
You may ask, what is Hyaluronic Acid anyways and why is it good for my skin? HA is a natural-occurring molecule in our body that helps retain moisture in our skin which keeps skin firm and supple. Keeping your skin hydrated promotes healthy, younger-looking skin since rough, dry skin can lead to wrinkles. Since our HA levels decrease as we age, significantly by the time we reach 40, we are constantly searching for solutions to replenish what is lost. HA can be applied in a serum as well as in a gel format through an injection. The most popular gel form of HA is known as Juvederm or Restalyn. Although injections provide more dramatic results, topical application of HA is more cost effective and will still provide significant anti-aging results.
Once HA5 is applied to clean skin, your skin will look and feel smoother in as little as fifteen minutes! However, you will notice dramatic improvement in skin texture and wrinkles after 8 weeks of continued use. Since HA5 is gentle and hydrating, it is ideal for all skin types and can easily be incorporated with any skin care routine.  Using HA5 in between your Juvederm injections will complement and enhance the site used to treat deeper wrinkles.