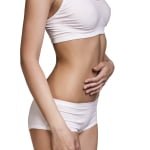 When most people think of plastic surgery, they tend to think about procedures that remove fat instead of adding it to the body. However, more and more people are doing just that. Fat grafting, also known as fat transfer, has become an increasingly popular plastic surgery procedure to enhance a patient's figure by removing fat in one body area and adding it into another. Here, board-certified plastic surgeon Dr. Basu discusses the procedure and its benefits.
What Is Fat Grafting?
Fat grafting is a body contouring procedure in which fat is removed from one body area to inject it into another body area that the patient wants to enhance. First, the fat is removed from the body via liposuction. The fat is then purified and re-injected into the desired body area. Typically, Dr. Basu's patients want to increase the size of their breasts, buttocks, cheeks or face using unwanted excess fat from their hips, abdomen, flanks, or thighs.
What Are the Benefits of Fat Grafting?
Safe and Minimally Invasive. Fat grafting reduces some of the risks and possible complications of other plastic surgery procedures. It's completely hypoallergenic because the fat that's injected into your body is your own, eliminating your risk of an allergic reaction (which can be a concern with face or body implants). Fat grafting is minimally invasive, and the injection points and liposuction incisions are very small.
Improves Your Overall Figure. Many people feel they have too much fat in one area of the body, and not enough in another. Fat grafting is an excellent way to bring balance to your figure. Imagine achieving a more shapely buttock and creating sexy curves while eliminating those love handles all at once!
Natural-Looking Results. Fat grafting produces beautiful results that feel and look natural because only your own fat and tissue is injected into your body. The results are usually long-lasting and you can enjoy a more toned, slim figure with natural-looking curves.
Quick Results. Many people exercise hoping to improve more than one body area. For example, you may want to enhance the size and fullness of your buttocks and slim down your abdomen at the same time. Unfortunately, improving multiple problem areas may mean more gym time or a longer wait until you can see the complete results you want. Fat grafting enhances multiple body areas all at once, in a shorter amount of time. With multiple procedures, you must wait until your body has fully healed from the first procedure before undergoing the next.
Schedule a Consultation with Dr. Basu
Houston plastic surgeon Dr. Basu specializes in fat grafting to help patients achieve the body figure and shape they desire. To learn more about fat grafting or other body contouring procedures Dr. Basu offers, schedule a one-on-one consultation. He will gladly discuss a surgical plan personalized to fit your aesthetic goals. Call Dr. Basu today at (713) 799-2278.