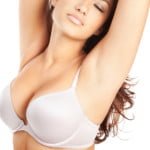 Women with breast implants are happier and have more sexual satisfaction, according to a recent study.
The study, published in Plastic and Reconstructive Surgery, the official medical journal of the American Society of Plastic Surgeons (ASPS), also found that older women may be less satisfied with their breast augmentation results.
This data was pulled from the BREAST-Q survey, which surveyed 611 women prior to their breast augmentation surgery, six weeks after surgery and again at six months after surgery. Most of the women had silicone implants placed underneath the pectoralis (chest) muscle.
The BREAST-Q survey asked the women to rate six areas affecting their quality of life, on a scale from 1 to 100:
1. Satisfaction with their breasts
2. Satisfaction with the overall outcome
3. Psychosocial well-being
4. Sexual well-being
5. Physical well-being
6. Satisfaction with care
Results showed tremendous improvement in most aspects affecting quality of life. For example, satisfaction with breasts increased dramatically from about 25 (prior to surgery) to about 80 (after surgery). Scores for psychosocial and sexual well-being saw a similar increase.
Other Notable Study Trends
The BREAST-Q research team noted one area of decreased well-being. Women rated their physical well-being lower at six weeks post-op, compared to prior to surgery. This may be due in part to the fact that some breast augmentation patients are not careful enough about limiting exercise and other physical exertion as their bodies heal.
Another interesting trend was that older women had lower scores for satisfaction with their breasts and the overall procedure.
Women older than 55 had an average score of 77 for overall satisfaction, compared to 82 for women in their forties, 86 for women in their thirties and 90 for women under the age of 30.
Considering Breast Implants?
Quality of life is one of the most important factors when considering a surgical procedure like breast augmentation. For many women, having small breasts, or breasts that are different shapes or sizes is very detrimental to their confidence and self-esteem. Breast augmentation can — and does — changes lives.
Houston breast surgeon Bob Basu has worked with numerous women who say they feel more confident with breast implants, find it easier to shop for and fit into clothing and have a more satisfying sex life.
"I finally have the breasts I was meant to be born with," one of Dr. Basu's patients said about her experience. "I can't say enough how natural they look and feel," another said. "I cannot wait to put on a bikini this season." Click here to read more real patient reviews.
If you are unhappy with your breasts and are curious how breast augmentation can help your self-image and confidence, please schedule a consultation with Dr. Basu to learn more about the surgery. Call our office at or send us an email today.