Northwest Houston
Cypress Office
9899 Towne Lake Parkway, Suite 100
Cypress, Texas 77433
(713) 799-2278

Uptown Park/Galleria
Houston Office
1700 Post Oak BLVD, Suite 1-280
Houston, Texas 77056
(713) 799-2278

QWO Cellulite Treatment Houston
Non-surgical treatment for cellulite dimpling in the buttocks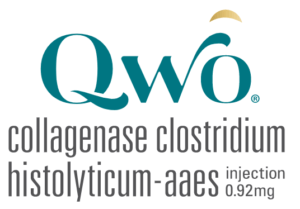 If you struggle with embarrassing cellulite dimples, there is finally a safe, non-surgical solution. QWO® is the first FDA-approved cosmetic injectable for moderate to severe cellulite in the buttocks of women. QWO is proven to be both safe and effective via the largest U.S. clinical trials in the history of cellulite investigation, and Dr. Basu and his team at Basu Aesthetics + Plastic Surgery are proud to be one of the first practices in Texas to offer this treatment.
What is QWO?
QWO is a combination of naturally-occurring collagenases. When QWO is injected into the skin of the buttocks, these collagenases immediately go to work breaking down types 1 and 3 collagen, which are responsible for creating the thick, fibrous bands that push fat upwards against the skin and cause the appearance of cellulite dimples.
What parts of the body can QWO treat?
QWO is currently FDA-approved to treat cellulite in the buttocks of adult women.
Am I a good candidate for QWO?
Cellulite affects roughly 90% of adult females regardless of race, ethnicity, body type, and level of physical activity. Cellulite can worsen with weight gain but typically does not improve with weight loss or exercise. This makes QWO an effective treatment for all women who are in relatively good health but struggle with cellulite.
You may not be a good candidate for QWO if you are allergic to collagenase, have an infection in your buttocks, or expect QWO to help you lose weight.
What procedures can be combined with QWO?
QWO is especially effective at treating cellulite after weight loss surgery, liposuction, or CoolSculpting treatment, as these procedures can reduce fat but are unable to target cellulite. In fact, until QWO, the only solution to get rid of cellulite was either surgery or laser treatment, both of which required downtime.
How much does QWO cost in Houston?
QWO treatments cost between $2,700-$3,700 depending on the number of cellulite dimples treated. Basu Aesthetics is currently offering up to 25% off QWO treatments for Exclusive VIP Members.
When will QWO be available in Houston?
QWO became available in March of 2021 and Dr. Basu is thrilled to be one of the first practices in Houston to offer it to his patients.
To schedule your QWO consultation with Dr. Basu, call our Houston office today at (713) 799-2278 or contact us online . We only have a limited supply of QWO, so reserve your spot today!