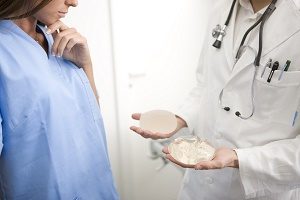 When planning a breast augmentation, there's more to consider than simply the size. Did you know there are three different breast implant profiles? The profile you choose will affect how large the implant appears to be – the same volume implant can look very different in each of the profiles, meaning it is important to know how to pick the right breast implants.
1. Low Profile
Best suited to those with wider chests, low profile implants offer minimal projection, sitting quite flat in comparison to others.
2. Moderate Profile
If you're looking for natural results, moderate profile implants will normally be the most appropriate option. These tend to suit women with average-sized chests.
3. High Profile
For maximum projection, and very full and round look, high profile is the way to go. Alternatively, women with particularly narrow chests may find that high profile breast implants produce the most natural effect.
How to Pick the Right Breast Implants
 The perfect profile will depend on how much projection you wish to achieve, as well as your body shape. 
There is no one ideal answer for every woman when it comes to breast augmentation, as your results depend entirely on personal preference. During your initial consultation, your plastic surgeon can explain how each profile would look on your body shape, enabling you to make an informed decision, as well as recommend which option he or she feels is most likely to help you meet your appearance goals. Current trends may also influence your decision. Finally, remember that your natural proportions will also have an effect on which is the best implant option for you.