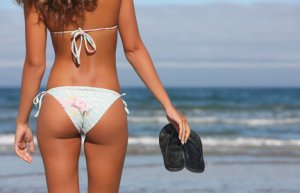 Whether the fascination with derrières is attributed to J. Lo, Kim Kardashian or Beyoncé, there is no doubt that we live in an era in which an ample, perky posterior is much appreciated. If you desire a lifted, voluminous backside but were not born with one, Dr. Bob Basu can help. He offers Brazilian butt lift surgery, an innovative way to enhance and lift your posterior, with the use of your own fat. Learn more about getting the derrière that Mother Nature may not have bestowed upon you, here.
What Is Brazilian Buttock Lift, Exactly?
If you are bothered by a posterior that is too small, too saggy or simply flat-looking, Brazilian buttock augmentation / lift surgery can improve your aesthetic concern.
With Brazilian buttock lift, Dr. Basu first performs liposuction of the hips, thighs and / or lower back to remove fat from these areas. After purifying the fat, he re-injects it into specific regions of the buttocks, often focusing on the upper quadrant. By redistributing your own fat into more optimal locations, he is able to create an aesthetically pleasing shape throughout the buttocks that is more lifted and voluminous. As an added bonus, you also achieve a slimmer profile throughout the fat-donor areas.
Who Is a Suitable Candidate for the Procedure?
Given that Dr. Basu must be able to transfer a sufficient amount of fat from one or more areas of the body to the buttocks, suitable candidates for Brazilian buttock lift include patients with an ample amount of excess fat in the donor area. In addition, appropriate candidates are in good overall physical and mental health, do not smoke (or are prepared to stop smoking for several weeks before and after surgery), are not currently pregnant, have realistic expectations for the outcome of surgery and have decided to pursue the procedure of their own volition.
If you are a thin person with little body fat but would like to enhance your derrière, don't worry. Dr. Basu can offer alternative treatment options.
Find Out If You Are an Appropriate Candidate
If you are interested in undergoing Brazilian buttock lift, we invite you to come in for a consultation with Dr. Basu. He will evaluate your physique and listen to your aesthetic concerns before recommending a treatment plan that will best suit your needs. To schedule a private consultation with Dr. Basu, contact us by calling (713) 799-2278.