Breast Augmentation
Houston plastic surgeon Dr. Bob Basu performs breast augmentation with implants to add volume to the breasts and improve his patients' breast shape and profile. Many women feel that larger breasts help balance their body's overall proportions, giving their figure better symmetry and helping them feel more feminine and confident.
Dr. Basu is a board-certified plastic surgeon who specializes in breast enlargement surgery. His experience combined with his sensitive approach to each woman's needs makes him one of the top breast enhancement surgeons, helping women throughout Texas love their curves.
Contact us online or call our office today at 713-799-2278 to schedule a consultation at Basu Plastic Surgery, conveniently located in two centers throughout Houston.
Why Consider Breast Augmentation?
The women who visit us in Houston and Cypress, TX for breast augmentation have a variety of reasons for considering the procedure, including:
Breasts have lost volume as a result of age, pregnancy or weight loss
Breasts have always been small and a source of insecurity
Breasts are asymmetrical
If you are unhappy with the size and shape of your breasts for any reason, you may be a good candidate for breast augmentation surgery to achieve larger, fuller breasts.
How to Choose the Best Breast Implant Size
How Much Does Breast Augmentation Cost?
The price of breast augmentation varies depending on facility fees and whether you opt for silicone gel breast implants or saline breast implants.
At Basu Plastic Surgery, we frequently have special promotions for breast augmentation. We also offer plastic surgery financing options to make your breast enlargement as affordable as possible.
Your Breast Augmentation Options
If you have decided to get breast implants, there are a number of options to consider. Dr. Basu will work with you to determine a surgical plan that best meets your individual needs, including choosing what implant size and profile you would like. He also provides detailed breast implant sizing consultations for women interested in breast enlargement.
Saline vs. Silicone Breast Implants
Women can choose either saline or silicone breast implants. During your initial consultation with Dr. Basu, he will provide breast implant samples that you can feel and give you a more detailed breakdown of the advantages and limitations of each type of implant.
Incision Location
Breast implant placement involves small incisions, which can be made under the breast hidden in your breast crease, around the areola (peri-areolar), in the axilla (armpit) or through the belly button. Dr. Basu will determine the incision technique he will use for your surgery based on where he can best camouflage your incision and the type of breast implant you choose.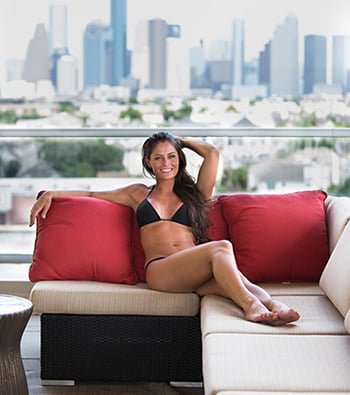 Click here to view our gallery
Implant Placement
Breast implants can be placed above or below the muscles of the chest wall. Dr. Basu specializes in the advanced dual-plane technique, also known as partially under the muscle, which can help women with slightly drooping breasts achieve natural-looking results.
Additional Procedures
Many women choose to combine breast augmentation with a breast lift to improve both the size and position of their breasts. Additionally, mothers who have completed their families frequently include breast augmentation as part of a mommy makeover for an overall more youthful figure.
Your Breast Augmentation Surgery
During your consultation, Dr. Basu will discuss your goals and concerns regarding breast augmentation and develop a surgical plan that best addresses your needs. He will also explain the surgical procedure in greater detail and what you can expect during your recovery.
Dr. Basu uses general anesthesia while performing breast augmentation surgery. He will begin with making the incision at the appropriate location. He will then create a pocket for the implant, place the implant and carefully close the incision with sutures underneath the skin.
Your Recovery & Results
After your surgery you will need to rest for several days and avoid lifting anything. Dr. Basu will ask you to wear a special compression bra as you recover. You can gradually resume your normal activities over the weeks and months following your surgery. Most women can see their final breast enlargement results within 6 months.
Breast Augmentation Recovery

Dr. Bob Basu discusses what to expect during breast augmentation recovery, including when you can return to work, exercise and other routine activities.
More Breast Augmentation Resources
Schedule Your Consultation
To take the first step toward achieving your ideal figure with breast augmentation, contact us online or call our Houston office today at 713-799-2278.